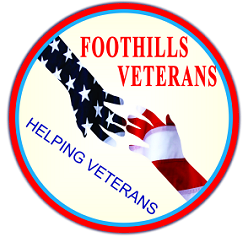 14th Annual Marine Cup Classic Golf Tournament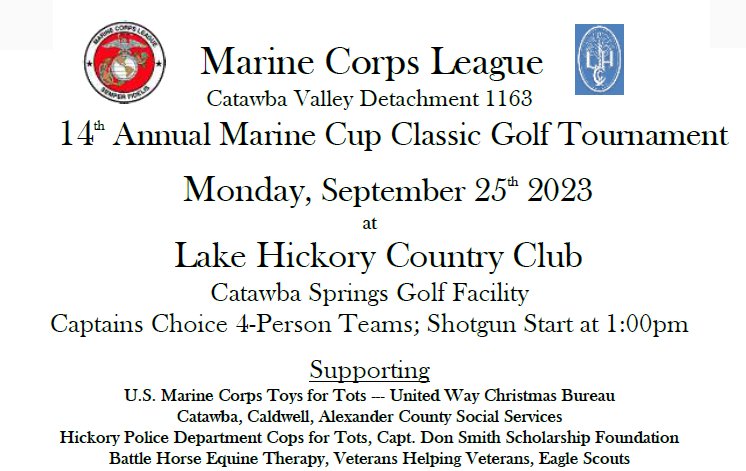 More Than 260 Veterans Served at
Stand Down

Event
News Article as Seen in the Hickory Daily Record
HICKORY — Foothills Veterans Helping Veterans sponsored the 11th Annual Foothills Veterans Stand Down on April 21 at the Tarleton Complex at Catawba Valley Community College. All veterans regardless of age and when and where they served were invited to attend.
More than 260 veterans received a variety of goods and services provided by various agencies. Services included hearing tests, blood pressure checks, haircuts, and dental care. Lunch was provided.
Among the highlights:
33 veterans were provided dental care by the CVCC dental clinic.
25 were provided eye care by Lions Club.
37 were provided haircuts by Sport Clips.
70 vendors supported the event.
Ric Vandett was awarded the Jim Starkey Award for his years of service to the veteran community.
Levi Helton was awarded the quilt of valor to recognize his service to our country and to the veteran community.
Foothills Veterans Helping Veterans (FVHV) has been sponsoring a Veterans Stand Down in Catawba County since 2012.
Jim Starkey was the chairperson for the first two years, and Ric Vandett chaired the event for the next seven years. What was to have been the Ninth Annual Stand Down (2020) was canceled due to COVID. The Ninth Annual Stand Down was held in May 2021 in the parking lot of the Hickory Elks Lodge. Due to scheduling problems the 10th Annual Stand Down was held in June 2022 at CVCC. The chairperson for the last three years has been John Helton.
FVHV thanks all of the volunteers, agencies, and sponsors for their continued support of veterans. A special thanks goes to Garrett Hinshaw of CVCC for providing the space for the annual Stand Down.
Salute Trail Run –
September 9th 2023
HONORING VETS, 1ST RESPONDERS, LAW ENFORCEMENT, AND THOSE WE'VE LOST
When: September 9th, 2023 9AM Start
Food, Drinks and Fun Afterwards…
Where: 6347 St. Peters Church Rd. Conover, NC 28613
New Subcommittee Seeks to Involve More Women in FVHV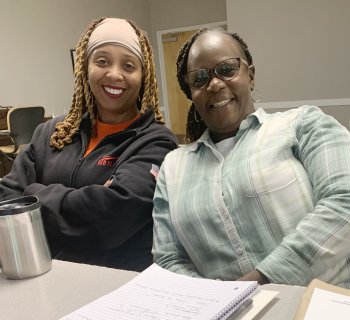 Rashina Carter and Lorrie Lawrence, seen here at the weekly Foothills Veterans Helping Veterans (FVHV) meeting, are spearheading an effort to involve more women veterans and female spouses of veterans in a new subcommittee of FVHV.
Anyone interested in joining this group (there is no cost involved) can simply let us know on the Contact Us page on this website.
Foothills Veterans Helping Veterans
Take Part in 2022 Veterans Day Activities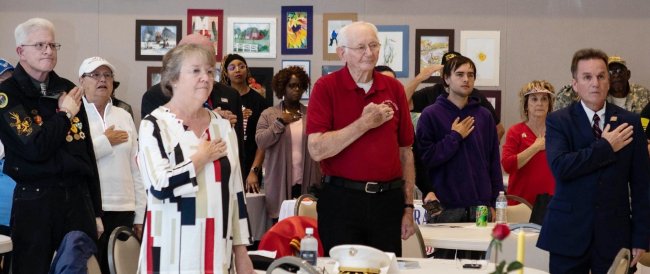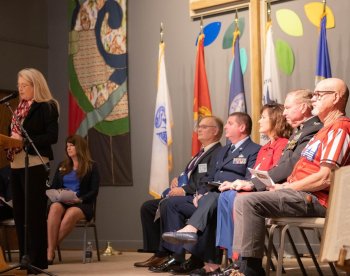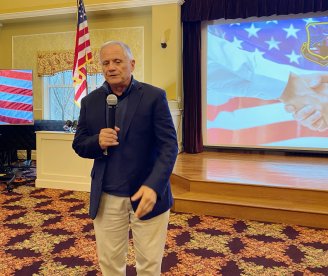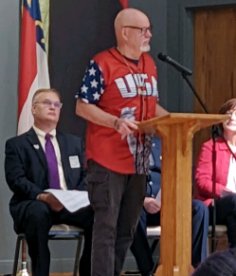 Foothills Veteran Stand Down Event
Catawba Valley Community College –  Hickory, NC
The first stand down was held in 1988 in San Diego, California. The founders of the concept are Robert Van Keuren and Dr. Jon Nachison (two Vietnam veterans). It provided battle weary soldiers during the Vietnam War a retreat in a safe environment. Its purpose was for soldiers to take care of personal hygiene, enjoy hot meals, medical and dental care, send and receive mail, and enjoy the camaraderie of friends.
What Happens at a Stand Down Today?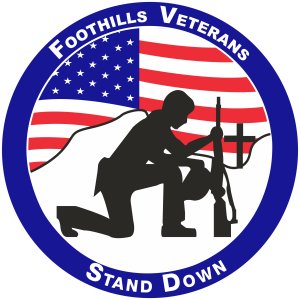 Each year, the Foothills Veterans Helping Veterans hosts the Foothills Veterans Stand Down. Veterans come together at Catawba Valley Community College for camaraderie, food, clothing, medical, dental, and other services. Veterans are provided access to community resources needed to rebuild or enhance their lives. Veterans have the opportunity to connect with other veterans, veterans' organizations, volunteers and service providers.
To host a successful Stand Down, a group of dedicated volunteers is needed, along with donors and sponsors, community support, financial support, and strong leaders with great organizational skills.
Visit www.foothillsstanddown.com to learn even more about this valued event.
Forms  for Foothills Stand Down Event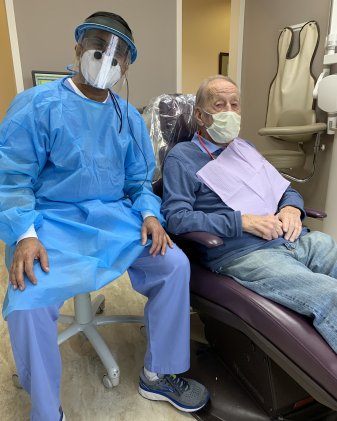 Stand Down dentist, Dr. Sahil Bhende,
helps veteran Ron Kana.
Building Better Lives for Veterans in the Foothills of North Carolina
Tax Exempt 501(c) 3 Organization / Identification #85-1213574