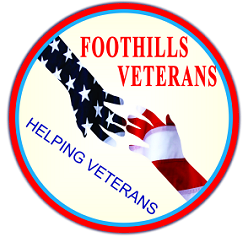 Salute Trail Run –
September 9th 2023
HONORING VETS, 1ST RESPONDERS, LAW ENFORCEMENT, AND THOSE WE'VE LOST
When: September 9th, 2023 9AM Start
Food, Drinks and Fun Afterwards…
Where: 6347 St. Peters Church Rd. Conover, NC 28613
Foothills Veterans Helping Veterans 
Comes to the Aid of One of Their Own
Five days before Christmas, Tamara Aguilera, a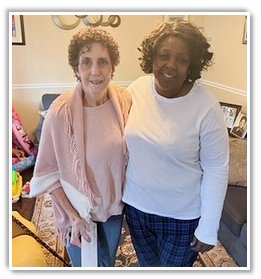 counselor at the VA Clinic in Hickory, lost her house due to a fire.
The next day FVHV spread the word, and within less than a day, money was pledged to help ensure she and her children would have a Christmas.
FVHV, using money from a Goodwill grant they received two years ago, donated $5,000. Ric Vandett and Jennifer Boatwright, who bought presents for the children, delivered the check and presents three days before Christmas. Other groups such as DAV Chapter 34 and the Hickory Elks, have also donated money. Many individuals sent money to the FVHV.
Many thanks go to the entire veterans and friends community for stepping up in this time of need.
Pictured are Eva Helton, FVHV Board member and the spouse of a Vietnam Veteran, and Tamara. Eva was able to give Tamara another check thanks to individual donations.
New Subcommittee Seeks to Involve More Women in FVHV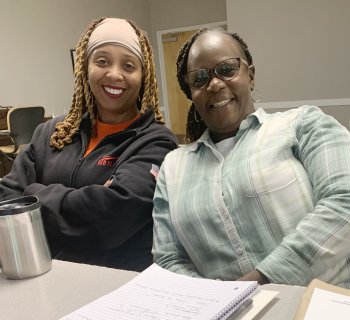 Rashina Carter and Lorrie Lawrence, seen here at the weekly Foothills Veterans Helping Veterans (FVHV) meeting, are spearheading an effort to involve more women veterans and female spouses of veterans in a new subcommittee of FVHV.
Anyone interested in joining this group (there is no cost involved) can simply let us know on the Contact Us page on this website.
"Brothers and Sisters Like These" 
Anthology of Stories by North Carolina Veterans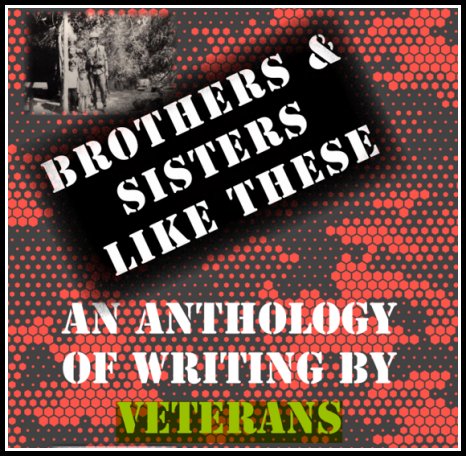 Hickory, NC – Redhawk Publications is honored to release a collection of stories written by US military veterans, Brothers and Sisters Like These. A total of 36 veterans shared over seventy stories, both in prose and poetry form, based on their experiences while serving in the military. Ms. Elizabeth Heaney, LPC, was the Writer in Residence who helped the veterans write their stories, while Ms. Tessa Fontaine was the editor who prepared the selected stories for publishing.
Foothills Veterans Helping Veterans
Take Part in 2022 Veterans Day Activities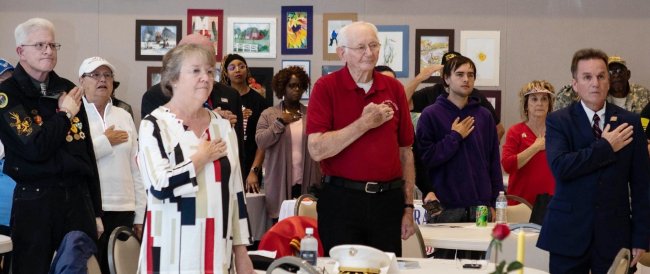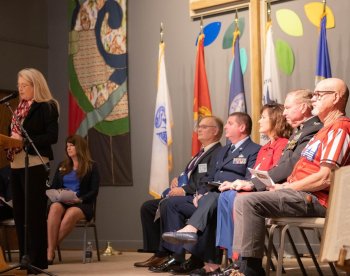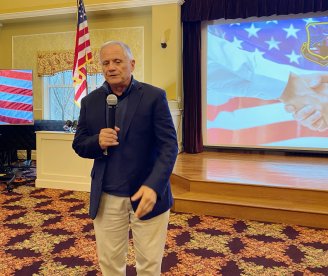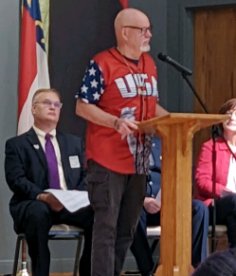 First Annual
Foothills Veterans Helping Veterans

Fun Ride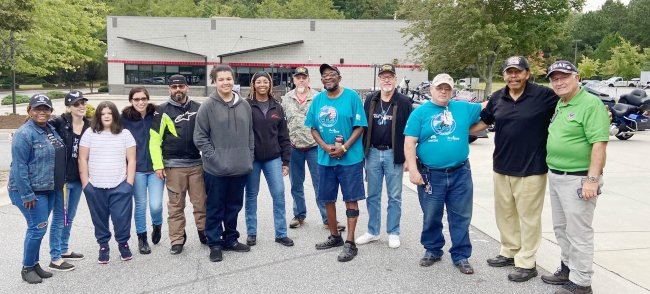 Foothills Veterans Helping Veterans celebrate 1st Annual Fun Ride
Foothills Veteran Dental Stand Down Event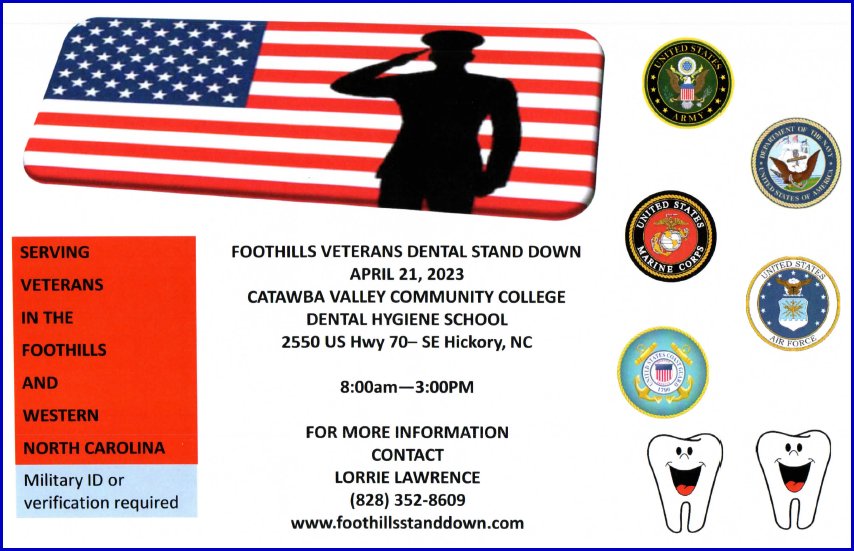 Foothills Veteran Stand Down Event
April 21, 2023     9:00AM – 2:00PM
Catawba Valley Community College –  Hickory, NC
The first stand down was held in 1988 in San Diego, California. The founders of the concept are Robert Van Keuren and Dr. Jon Nachison (two Vietnam veterans). It provided battle weary soldiers during the Vietnam War a retreat in a safe environment. Its purpose was for soldiers to take care of personal hygiene, enjoy hot meals, medical and dental care, send and receive mail, and enjoy the camaraderie of friends.
Today, it is a grassroots, community-based intervention designed to help the homeless veterans "combat" life on the street. It offers homeless veterans a "hand up" not a hand out. It provides opportunity for veterans to renew their spirits, health and overall sense of well-being while connecting with other veterans that care.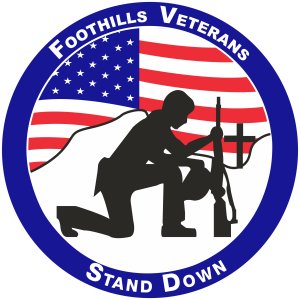 What Happens at a Stand Down Today?
Homeless veterans come together in one location for camaraderie, food, clothing, medical, dental, and other services. Veterans are provided access to community resources needed to rebuild their lives. Veterans have the opportunity to connect with other veterans, veterans' organizations, volunteers and service providers.
Hosting a community Stand Down encourages partnership and collaboration among agencies. It serves as a means of helping communities address their 10 year plan to end homelessness, as well as, promoting awareness and encouraging dialogue on issues relating to homeless and at-risk veterans.
To host a successful Stand Down, a group of dedicated volunteers are needed, along with donors and sponsors, community support, financial support, and strong leaders with great organizational skills.
Visit www.foothillsstanddown.com to learn even more about this valued event.
Forms  for Foothills Stand Down Event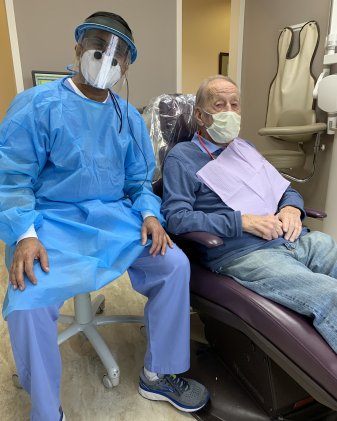 Stand Down dentist, Dr. Sahil Bhende,
helps veteran Ron Kana.
Building Better Lives for Veterans in the Foothills of North Carolina
Tax Exempt 501(c) 3 Organization / Identification #85-1213574